Race Details – RRL_10 Sun May 26 DMS IVCA Carlow
Hi all,
Tomorrow's race rolls out from Tougher's Restaurant in Carlow at 9.00am.
Exit "Carlow north" on M9 motorway.
This is the first visit to Carlow for the IVCA and the Race committee are very grateful to Fergal Kennedy for his fantastic work in organising this race.
This is the same circuit as"Ras Ceatharlach" – CI race from September last year, some of you may have ridden it then.
Route details and map of the 24km circuit below
Marshal sign on and briefing between 8.00am and 8.30am so arrive  on time for instructions as this is a new circuit.
Tea, coffee and sandwiches will be available after the race in Tougher's so hope to see you all there.
Race committee
Route Map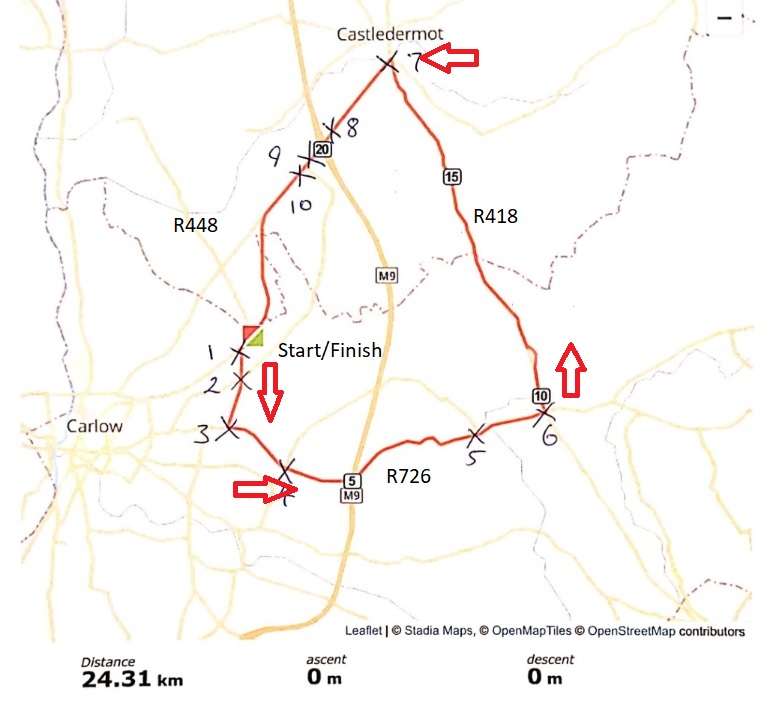 Route details
KM
Road / Route no
Description
0
R448
Start at the R448 Tougher's Restaurant Towards Carlow

Marshals required at the roundabout

0.7km
R418
Roundabout toward Hacketstown.. Take 1st exit and go straight through
0.8km
R418
Roundabout almost immediately. 2nd Exit Go straight through Dont Cut
2.5km
R418/726
Junction Turn left Towards Hacketstown (Pothole on corner)
9.8km
R726/R418
Junction Turn Left towards Castledermot
14.3km
R418
Straight at Knocknacree Crossroads
17.6km
R448
Left Direction Carlow
17.8km
R448
Caution 3 Traffic Islands
19.7km
R448
Caution Motorway Junction
19.8km
R448
Caution: Motorway Roundabout 2nd Exit
20.5km
R448
Straight Prumplestown Crossroads
23.8km
R448
Finish (Road rises for last KM)