Swan flies fastest up hill
Barry Swan was the clear winner of the IVCA Hill Climb on an overcast and misty day on 1st October.  The only rider to break 8 minutes this year, Barry was the deserving winner on the 3 km climb of the Long Hill at Kilmacanogue.  Second place went to Aidan McKenna, with third place going to Joe Sheehy, who was riding the event for the first time.
An equally clear winner in on Handicap time was Terry Ferris who took a massive 47 seconds off his handicap time.  Second place in this category went to Colm Cassidy (-28 secs), with third place going to Hugh Davis (-14 secs).
Full results are provided below.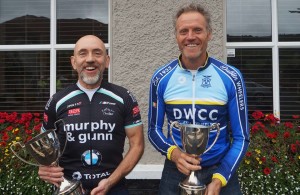 Terry Ferris (Left) winner on handicap time, and Barry Swan (right), fastest rider on the day