Next Road Event Sunday 8th May : Venue Changed to Monasterevin
Due to roadworks on the circuit in Roundwood the race committee has no alternative but to move next Sundays race.
The Dermot McGrath memorial races will now be held in monasterevin with the Dermot McGrath Cup going to the winner of race 3
It's very important that when you sign-on at each race that you have your racing card swiped otherwise you won't be listed on the start sheet ! So please ensure arrive early and in plenty of time.
Marshals please arrive at least 30 mins before the race start for your briefing.
Safe Riding and Enjoy !
Sign on Opens 8:15 AM at the GAA Club Monasterevin
Start time : 9.00 AM
Start Location :  Junction of R445 / R417
DMS Event of  4 laps – 89.6km, 3 laps – 67.2km and 2 laps 44.8km
Marshall Briefing will be at 8:30 AM
Course Details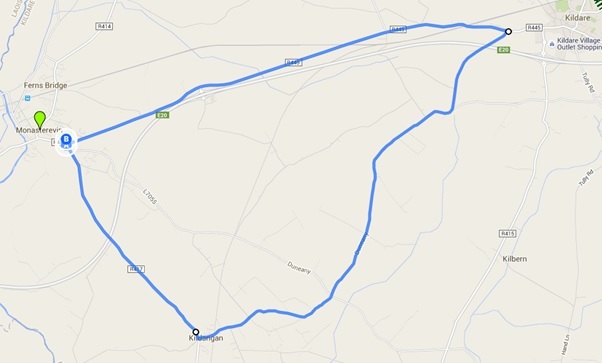 | | | |
| --- | --- | --- |
| KM | Road / Route no | Description |
| 0 km | R445 / R417 | Rolling Start – Race Neutralised for 1km |
| 600m | R417 | Cross finish line |
| 1km | R147 | Start racing at top of the hill towards Kildangan |
| 4.2km | R147 | Enter Kildangan |
| 4.5km | R417 / L3004 | Turn left onto L3004 towards Kildare town – Caution Ramps |
| 4.7km | L3004 | Cross over railway bridge – Caution telegraph pole on the left on the roadway |
| 7.3km | L3004 / L7005 | Straight at Duneany cross towards Kildare Town |
| 13.8km | L3004 / R445 | Turn left onto R445 towards Monasterevin |
| 14.5km | R445 | Caution "S"  bend over railway bridge |
| 19.7km | R445 / Junction 14 Mayfield | Straight on towards Monasterevin |
| 22.4km | R445 / R417 | Turn left onto R417 – Start next lap |