Results RRL-04 Sunday 16th April – Kilcullen
Damp and miserable conditions for easter racing greeted the riders for Sundays proceedings, chapeau to all for braving them !
Race 1 saw an early break going clear from the 5km mark and sticking to the end, Cathal Miller of Clontarf CC taking the win ahead of Eoin McGovern DWCC and Diarmuid Collins of Orwell Wheelers taking 3rd.
Race 2 also saw a move going clear splitting the bunch, Stephen O'Brien Blanch Wheelers taking 1st with Roy Bowden of Sorrento in 2nd and Paul Fahy of Slaney CC taking 3rd
Race 3
Slaney CC's in the points again with Paul Byrne taking the win with Josephy Murphy Marble City Wheelers in 2nd and Tom O'Connell Murphy Surveyors in 3rd
Race 4 Fanastic to see a lady winner ! Bernie O'Brien of Swords with a decisive victory, breaking away on the first lap opening up a large gap. She then went on to increase it, winning on her own with minutes to spare. Colm Conway of IVCA coming in 2nd and JJ Boylan of Unlaoised CC in 3rd place.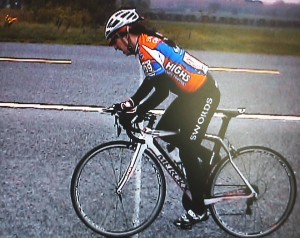 Thanks to the race committee and the marshals for another days great racing with the IVCA.
Results below ;
Race 1
| | | | | |
| --- | --- | --- | --- | --- |
| Cathal Miller | 739 | Clontarf CC | G | 12 |
| Eoin McGovern | 748 | Dublin Wheelers | G | 11 |
| Diarmuid Collins | 703 | Orwell Wheelers | G | 10 |
| Patrick Deegan | 724 | IVCA | G | 9 |
| Paul McKenna | 729 | Kilcullen Murphy Surveyors | G | 8 |
| Mark Kiernan | 746 | Kilcullen CC | G | 7 |
| Ken O'Neill | 749 | Orwell Wheelers | G | 6 |
| Billy Bourke | 605 | Sorrento CC | F | 5 |
| Gavin Dodd | 641 | Orwell Wheelers | F | 4 |
| Ian O'Hara | 721 | Lucan Stagg | G | 3 |
| | | | | |
Race 2
| | | | | |
| --- | --- | --- | --- | --- |
| Stephen O'Brien | 539 | Blanch Wheelers CC | E | 12 |
| Roy Bowden | 524 | Sorrento CC | E | 11 |
| Paul Fahy | 545 | Slaney Cycling Club | E | 10 |
| Gerard Murphy | 435 | Clontarf CC | D | 9 |
| Aidan Delaney | 429 | Cuchulainn CC | D | 8 |
| Barry Cahill | 455 | Bray Wheelers | D | 7 |
| Michael Meehan | 553 | CKRcc | E | 6 |
| David Bradley | 432 | Orwell Wheelers | D | 5 |
| Jason O'Toole | 505 | McNally Swords CC | E | 4 |
| Colin Bell | 531 | Dublin Wheelers | E | 3 |
| | | | | |
Race 3
| | | | | |
| --- | --- | --- | --- | --- |
| Stephen O'Brien | 539 | Blanch Wheelers CC | E | 12 |
| Roy Bowden | 524 | Sorrento CC | E | 11 |
| Paul Fahy | 545 | Slaney Cycling Club | E | 10 |
| Gerard Murphy | 435 | Clontarf CC | D | 9 |
| Aidan Delaney | 429 | Cuchulainn CC | D | 8 |
| Barry Cahill | 455 | Bray Wheelers | D | 7 |
| Michael Meehan | 553 | CKRcc | E | 6 |
| David Bradley | 432 | Orwell Wheelers | D | 5 |
| Jason O'Toole | 505 | McNally Swords CC | E | 4 |
| Colin Bell | 531 | Dublin Wheelers | E | 3 |
Race 4
| | | | | |
| --- | --- | --- | --- | --- |
| Bernadette O'Brien | 109 | McNally Swords CC | A | 12 |
| Colm Conway | 121 | IVCA | A | 11 |
| JJ Boylan | 104 | Unlaoised CC | A | 10 |
| Des Howe | 103 | IVCA | A | 9 |
| Jim Morahan | 106 | McNally Swords CC | A | 8 |
| X | X | To be confirmed | X | X |
| Eddie Dunne | 113 | IVCA | A | 6 |
| Paddy Davis | 123 | Usher IRC | A | 5 |
| Derek McCullagh | 116 | IVCA | A | 4 |
| Eddie Scully | 120 | Smart Lamp | A | 3 |